"Do you know what, boys?" Katja said. "From Vladivostok to Berlin-Marzahn, people are dancing to songs like Frau Gorbatschowa tanzt Bossanova, Es ist nicht so schlimm auf der Insel Krim, Zur Konferenz in Rostock, Der alte böse Kapitalismus or Hallo, guter Kommunist!"
We were quite chocked when we heard this from her, even if STASI had informed us about the same thing one month earlier.
Katja is a journalist from Saarbrücken, writing for a magazine called Hinternet. If she knows that much about IFA Wartburg it must mean that our records have spread deep into the west and at a much faster rate than we ever dared to hope for.
"Please, Heinz and Rolf. Let me make an interview with you, before you disappear into incredible fame!"
Of course, said Heinz and Rolf. You can read the interview here: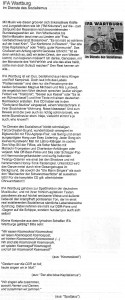 Mit freundlichen Grüßen,