Tomorrow is the day when IFA Wartburg will perform live at Easy Schorre in Halle. The show is called Akte Rock and the TV-channel Mitteldeutscher Rundfunk (MDR) will be there, so I have to start planning the scene show now.
I understand that the backstage rider is the holy grail for every rock band. Without a perfect backstage rider the band will start to complain and use ugly words.
But a concert means nothing unless people actually enjoys the show. It is impossible to do a tour unless you know exactly how you're going to get the crowd really wild. I want to create that dangerous and wild rock atmosphere that makes you feel creepy.
To find out what really makes a show tick, I started to analyze one thousand of the most successful live performances made by our genius socialist leader and live performer Erich Honecker.
This is what I came up with for the IFA Wartburg Live Show in Halle:
1. Slipovers
2. A pointed stick
3. The overhead projector and important overhead pictures
4. Sunglasses
5. Maracas in yellow plastic
6. A sausage
7. Cabbage
8. Distilled water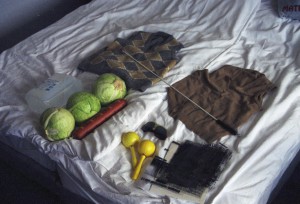 This will be one hell of a show!
Mit freundlichen Grüßen,