Heinz Klinger and Rolf Kempinski met the journalist Michael Pilz from Die Welt after the IFA Wartburg performance at The Treptower Glashaus in Berlin 1/4 1999.
Die Welt is a newspaper that reaches around 300.000 readers in West Germany.
We East Germans have noticed how people in the west tends to get more socialistic when it comes to music.
To make everything as nice and socialistic as possible, we served our standardized stage buffet consisting of radish and cabbage and a lot of distilled water for all the thirsty comrades in the audience.
Thanks, Die Welt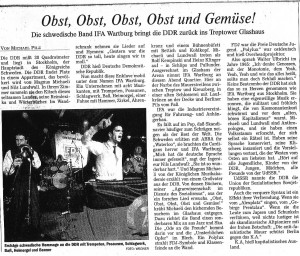 Songs played during this concert:
Mit freundlichen Grüßen,