We all know how hard it is to be outspoken about space and food. Sometimes it feels like an invisible elephant is standing in the middle of the room seeking for your fruit bowl.
To put it quite blunt: Space and food are two different topics. Still we have problems to discuss this matter in an honest way.
So what my work has been evolving around the last weeks is how to communicate this as clear as possible and how to tell people about this in such a way that they don´t get offended and run away.
What I came up with, is this diagram that shows the wheel of food together with our mother Earth surrounded by Sigmund Jähn flying by in a spaceship. They are both flying around in space having food on board but the earth is round.
This feels like a great beginning of a new era.
Here is the diagram: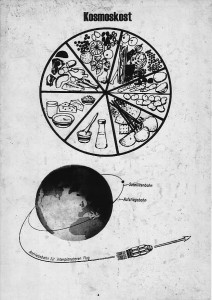 And here is the song Kosmoskost:
And here one more time:
Mit freundlichen Grüßen,


And here is the song Kosmoskost.